Healing Through the Arts
Since the Industrial Revolution, health care professionals have known that arts and crafts are a powerful ally to healing. For the past 50 years, we've served those who served by providing therapeutic craft kits free of charge to our veterans and wounded active-duty military personnel.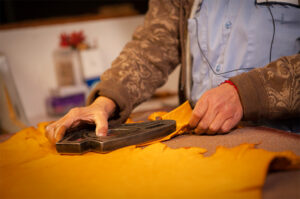 Craft kits seem like a simple answer, but their healing power is profound. Learn about the benefits they offer, and the decades of research we drew on to shape our mission.
What does a craft kit look like? We offer a variety of craft types and projects including leatherworking, wood crafts, jewelry, poster-making, painting, and much more—and they're matched to the needs of their recipients.
Meet the dedicated group of employees who bring their teaching, arts, and other skills to our Community-Based Arts and Crafts Centers to work directly with veterans.
Community-Based Arts and Crafts Centers
We're expanding access to our therapeutic crafts with our CBCs, where veterans and active-duty military can work on projects with the assistance of our Craft Care Specialists and crafting volunteers, and can enjoy a lively, social atmosphere surrounded by their peers.
Make a donation
Every Dollar Provides So Much Healing
For every $20 you contribute, we're able to provide our veterans with $820 worth of kits, free of charge to them. That's [#?] kits, or [#?] therapeutic activity hours. Make a gift today—even a small donation has a powerful and lasting impact.
Chip's Craft Corner Looks Inside Our Kits
In our video series Chip's Craft Corner, we go inside our production center to show you an inside view at how our kits are assembled, what's included, and what they look like when they're done.
How We Heal
Learn why we started offering craft kits, and how they help heal.
Heal Vets Craft Kits
 See the types of kits and projects that we provide, from leatherwork to wood crafts and much more.
Craft Care Specialists
This dedicated group of staff works directly with veterans at our crafting centers—see what they do.
Community-Based Arts and Crafts Centers
Find out how our crafting centers expand access to our programs and offer social connections to veterans.
"I have enjoyed making your moccasins and wearing them. Your craft kits have made my life more enjoyable, and are a much-needed break from the chaotic adjustment back to civilian life. I am hopeful to be employed within just a few short months, after being rated 'disabled' and 'unemployable' a couple of years ago."
–
Paul W.