Every Kit Creates a Story
Extraordinary things are happening all the time here. Across the country, volunteers are creating fundraising events that unite their communities. We're starting new programs and initiatives. Our veterans are making strides in their recovery and making fast friends along the way. Explore these pages to get a glimpse behind the scenes of our work and see the ways it changes lives. Maybe you'll be inspired to share your story with us, too.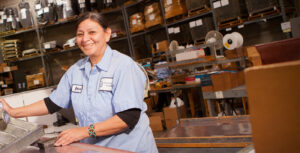 Every time the media features Help Heal Veterans in an interview or profile, we reach the people who will become our donors, volunteers, and ambassadors. See what they've been saying about us.
The best measure of our success is found in the words of our veterans themselves. Read first-hand accounts of their experiences, challenges, and triumphs, and the many ways that our work has brought them comfort and healing.
Join Our Mailing List
Don't Miss a Single Story
We bring our latest news and links right to your inbox every week[?] for an email guaranteed to make your day brighter. You'll be the first to know about our upcoming events, volunteer opportunities, and the uplifting stories that you can't wait to share with everyone you know.
Army Veteran Dalia Cox Shares Her Story of Healing
Doing therapeutic craft kits in one of our crafting centers gave veteran Dalia Cox a sense of community and accomplishment, as well as the focus and mental space she needed to process her experiences. Hear what she has to say about how crafting has helped her heal.
Press Releases
Want to write about us? Get our latest media releases and find out how to connect with us.
In the News
People everywhere are talking about our work and our veterans' stories. Find out what they're saying.
Letters from Vets
We've shared our favorite letters from our veterans telling us their stories and how our craft kits have helped them heal.
Newsletters
Our stories come to you every quarter when you receive Proudly We Serve right in your mailbox.
"Prior to coming, I'd been coping with PTSD from a 1 year tour/4 year active duty service MST and a recent abusive relationship. I was struggling so much socially that the only outside contact I had were acquaintances I worked with at church and the kids I taught in Sunday School.
Since working on the kits from Help Heal Veterans (Heal Vets), I have personally gained self-esteem, independence and a better sense of productivity and community. Heal Vets has helped me develop my creative side. I've made a few friends along the way as well!"
–
Brittany B.