Make a difference as a volunteer with Help Heal Veterans! Whether you're directly supporting veterans with their healing process, assisting them in making crafts or assembling our donated materials into craft kits, the many veterans we serve are so grateful for your help.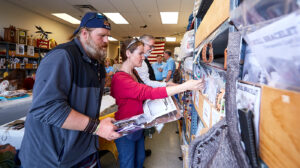 Join us at select VA Medical Center locations and become a craft care support volunteer. As  a volunteer, your primary responsibility is to spread the mission of Help Heal Veterans to  patients and to support veterans through their healing process with a clinician or therapist's  guidance. If you have a heart for healing veterans and passion for people, we want you!  
Heal Vets has multiple Community-Based Craft Clinic locations throughout the country. We are always seeking volunteers with compassion and a knack for crafts or a background in art. Volunteers will be tasked to help assist veterans in completing therapeutic craft kits, which is why we ask that you enjoy crafting and have a heart for America's veterans. Volunteers also help unpack shipments of craft kits, stock shelves and assist with office administrative duties as needed.
Volunteers at our headquarters assist with assembling donated materials and turning them into up-cycled therapeutic craft kits for distribution to our veterans in need. The day in the life of an assembly volunteer is exciting! Daily tasks may include sorting donated materials, preparing these items for the assembly line, packing, labeling boxes, restocking, quality control and other light production work. 
Learn More about Volunteer Opportunities

"Thank you for the kit. Doing constructive things like these kits is more therapeutic for my PTSD than any medication I take. Many veterans here have a hard time with their leather kits, so I will help work the sewing for them. We are all very thankful." 
–

Josh E., Army Veteran