Dear Capt. Joseph S. McClain (Chief Executive Officer),
I'm an Army veteran with two tours in Iraq.  I suffer from PTSD, TBI, depression, anxiety, and other physical and mental ailments.
The first time I was introduced to Help Heal Veterans and Art and Crafts program was during my various stays at VA Hospitals.  The arts and crafts projects helped me take my mind off my negative issues and focus on positive things instead.  I found the activities to be very therapeutic.  However, I found that after I returned home, I was missing the Craft Kits.
I live on a very fixed income so I can't afford the extra money to buy crafts.  Also, I live in a one bedroom apartment by myself.  The monotony and boredom of my living situation caused my mind to wander and the depression tried to creep back in.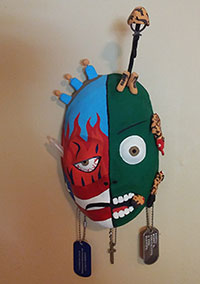 Then I heard that Help Heal Veterans offers arts and crafts to be delivered to your home if you qualify.  I followed the requirements to get started in the (Patient Home Rehabilitation) program, was accepted, and now the crafts come in the mail to my apartment.  This is awesome!  When I start working on my arts and crafts project, I become engulfed in the meticulousness and details of what I'm doing.  It helps my mind go to another place – one of peace and tranquility.
I prefer military models, but I am appreciative of anything you guys send me.
Here are a few pictures of the completed projects that ya'll sent me.  I also included a picture of a therapy mask that is my own creation (I thought you might find it interesting).
Thank you all for assistance in my rehabilitation.
Barry B., U.S. Army veteran